Types of accommodation / Prices: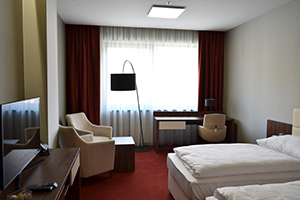 Modern and elegantly furnished rooms that are designed for both tourists and business-oriented guests. The combination of colours is based on the spirit of the CITY ARENA project, which offers comfort and a pleasant atmosphere.

For detail photogallery of the standard room please click HERE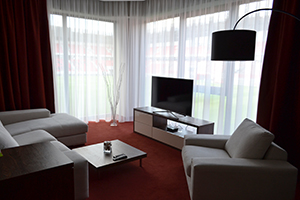 Comfortable and modern apartments with an exclusive view of The Stadium of Anton Malatinský. Modern colours and great equipment guarantee you a perfect experience and are able to engage the attention of every group of people.

For detail photogallery of the apartment please click HERE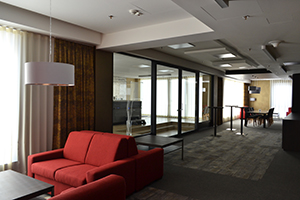 The extraordinary and state-of-the-art relaxation area with exclusive views of the city of Trnava and The Stadium of Anton Malatinský can be brought to you through the Executive Suite. It is located on the top floor of The Hotel Arena. It is interesting not only for two terraces, but also for a private jacuzzi and spacious and bright rooms.

For detail photogallery of the executive room please click HERE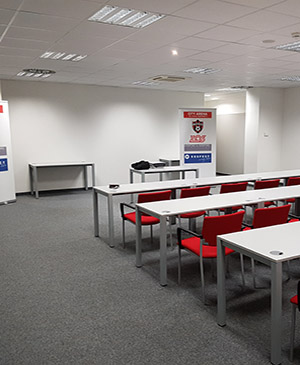 The air-conditioned room has state-of-the-art accessories and is designed for conferences, seminars, business meetings for up to 20 people. Through the reception we can provide catering, projector, parking, flipchart, sound system and of course WIFI and LAN connection. The price level of the rental is based on the requirements of our clients, which will be provided by The Hotel Arena reception.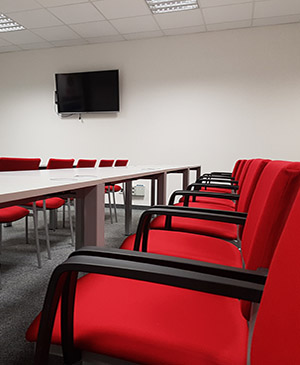 Larger conferences, teleconferencing and training are suitable for The Large Congress Room with a capacity of 20 to 50 people. It also has a projector, Wifi, Lan connection, flipcharts, and through our employees we can arrange for meals, coffee breaks or buffet according to your taste. We will be happy to help organise your events where the price varies depending on the requirements of the guests and the clients.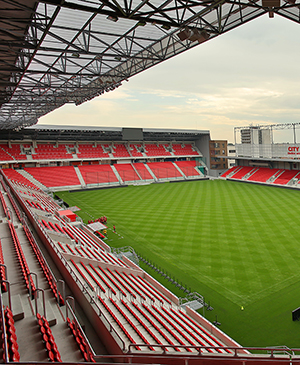 In addition to a great view of the grassy area of our apartments, we offer the opportunity to enjoy the tour of the largest and most modern stadium in Slovakia. A guide will take you through the cloakroom where Spartak Trnava players spend most of the time, and the chapel, which is in our country unique at the stadium. There will be a mix zone where players express their feelings as well as VIP and business or journalistic spaces. You will have an experience that you will not forget. All this at folk prices: children and students under 18, invalids and retirees over 62 - 1 euro, adults - 2 euros. Length of one guided tour: about 1 hour.